Who is Startec
Startec Automazioni boasts a know-how gained thanks to an experience acquired in over two decades of activity.
STARTEC's will is to Design and Produce ....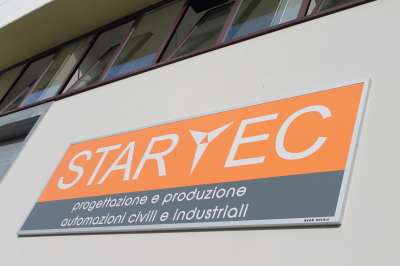 Startec Automazioni can boast a matured know-how thanks to an experience acquired in over two decades of activity.
STARTEC's intention is to Design and Produce electronic boards, create Apps and software for data management with the Cloud, in its plants in respect of the environment and with alternative energies. Our products guarantee reliability, high performance and a high quality/price ratio. We want to be leaders in our sectors:
Cloud data management and PLC interface cards with WIFI/Bluetooth router
Control/Management of single-phase and three-phase electric motors, direct current, Brushless and Reluctance
App creation
Process control with operator interface.
Boards for the automation of doors and gates in industrial and civil environments
All our products have been conceived and designed by the Startec team.
Radio controls, receivers, inverters, soft start, ac servo, direct current control, HMI, software, Cloud and App platforms are the result of our creativity and technical ability. Only on rare occasions have we been inspired by products already on the market. This, while challenging on the one hand, has grown our knowledge exponentially. It is on this concept that we base our security and our future. We have gained the right experience that we increase day after day and that we make available to our customers.
REQUEST INFORMATION
We are at your disposal for any request. Tell us your need and we will contact you.